Inshuti Names
Nyirazigama Claudine
Nyirabaremera Christine
Uwicyeza Emerithe
Bangana Franciose
Akimanizanye Alphonise
Ntibazaruheza Bonifilde
Uwitonze Claudine
Ikimanimpaye Claudine
Nyirabandi Denise
Uwimana Leocadie
Cyiza Agnes
Nyirangwabije Bridgette
Nirere Cecile
Rizinde Claudette
Habarurema Fidel
Hakizimana Hassan
Bangamwabo Jean-Bosco
Rubambana Makuza
Nyirarukundo Marie-Claire
Murekatete Olive
Nyiransabimana Bernadette
Uwimana Christine
Uzarama David
Mbarushimana Gaudance
Nyirakirwanigwa Genevieve
Harerimana Jean-Pierre
Uwamahoro Josianne
Ikingeneye Marceline
Manirakiza Marie-Claire
Nkunzurwanda Sadiki
Umuryango House #1
- Shelters 8 Families
Umuryango Houes #2
- Shelters 8 Families
Mukarundo Aline
Rekeriyo Alphonse
Nyirabyago Alphonsine
Uwayezu Anna
Ukwishaka Claudette
Nyiraminani Florence
Nyiragakondo Honorine
Nyiranizeyimana Ingabire
Hakizimana Jean-Damacen
Nyiransabimana Louise
Mukeshimana Seraphine
Nyirandege Slyvia
Niyigena Wilson
Ngendahayo Theodore
Mukeshimana Zawadi
Bayavuge Alivera
Mutumwa Anne-Marie
Mushiyimana Beltrilde
Nyrahategekimana Donathile
Bayahunde Espérance
Uwimana Espèrance
Twumvirimana Jean-Claude
Niyonsaba Jean-Claude
Mupenzi Jean-Paul
Segahwege Kibogora
Uwimana Marceline
Bayavuge Marie-Chantel
Kampire Marie-Gorret
Mugabekezi Petronilla
Manizabayo Rachel
Nyiransabimana Ruth
Mbarushimana Samuel
Bamporineza Valentine
Bugenimana Vestine
Banzubaze Vincent
Nirembere Alexia
Mukeishimana Christine
Nyirahabimana Christine
Nyirandirivamunda Christine
Uwimbabazi Christine
Maniriho Elias
Ntibarikure Emmanuel
Bihoyiki Epaphrodite
Bayisenge Eric
Uwamahoro Francine
Dusengumuremyi Gakengero
Nyiransabimana Joselyn
Uwimana Josiane
Ntagisanimana Lea
Miruho Leonidas
Gato Mariane
Ndigambigwa Marie-Claire
Ndawutumwana Marię-Gorret
Hanyuwimfura Nahason
Mukeshimana Olive
Mvukiyehe Regina
Uwayisaba Samuel
Nyiranbagufi Sinati
Serugendo Thomas
Nsekandabuze Vestine
Habarugira Adrien
Irankunda Agnes
Mukarugero Apolonie
Uwamahoro Charlotte
Uwizeyimana Claudine
Dushimana Denis
Umuhoza Jeanette
Dushimana JMV
Uwimana Modestine
Rudakubana Paul
Mukanoheri Valentine
Nsengiyumva Clementine
Nyirakabanza Dorothy
Ayubusa Innocent
Uzabakiriho Issa
Mvukiyehe Joel
Ndahayo
Dukuzumuremyi Patrick
Ngogoa Thomas
Inshuti Community Member 1
Inshuti Community Member 2
Inshuti Community Member 3
Inshuti Community Member 4
Inshuti Community Member 5
Inshuti Community Member 5
Rubavu Sector Family 1
Rubavu Sector Family 2
Rubavu Sector Family 3
Rubavu Sector Family 4
Rubavu Sector Family 5
Rubavu Sector Family 6
Rubavu Sector Family 7
Rubavu Sector Family 8
Rubavu Sector Family 9
Rubavu Sector Family 10
Rubavu Sector Family 11
Rubavu Sector Family 12
Rubavu Sector Family 13
Rubavu Sector Family 14
Rubavu Sector Family 15
Rubavu Sector Family 16
Who Are Inshuti Familes
Since the beginning, we have prioritized sheltering single-mother families with no support system. Most of these women have been abandoned by their husbands or widowed and left alone with the burden of caring for their large families.
Hard-Working Father Families
We also emphasize rewarding hard-working fathers who try to support their families. Usually, these families dwell in dilapidated houses due to a lack of resources and jobs.
Our vision is not just to build homes but to continue to expand our community of Inshuti. Many of our house recipients are masons and workers who have been Inshuti employees for multiple building seasons.
People who survived the genocide live with unbearable trauma and are alone after losing their entire families. Sheltering survivors provides them with a safe living environment, allowing them to heal and rebuild their lives.
Jean-Pierre's Story
House Recipient Interview, 2017
"I have survived the genocide only to be a refugee in the Congo, but I always wanted to return to Rwanda to raise my children. Now we live in a terrible house with a leaking roof and sleep on the dirt floor."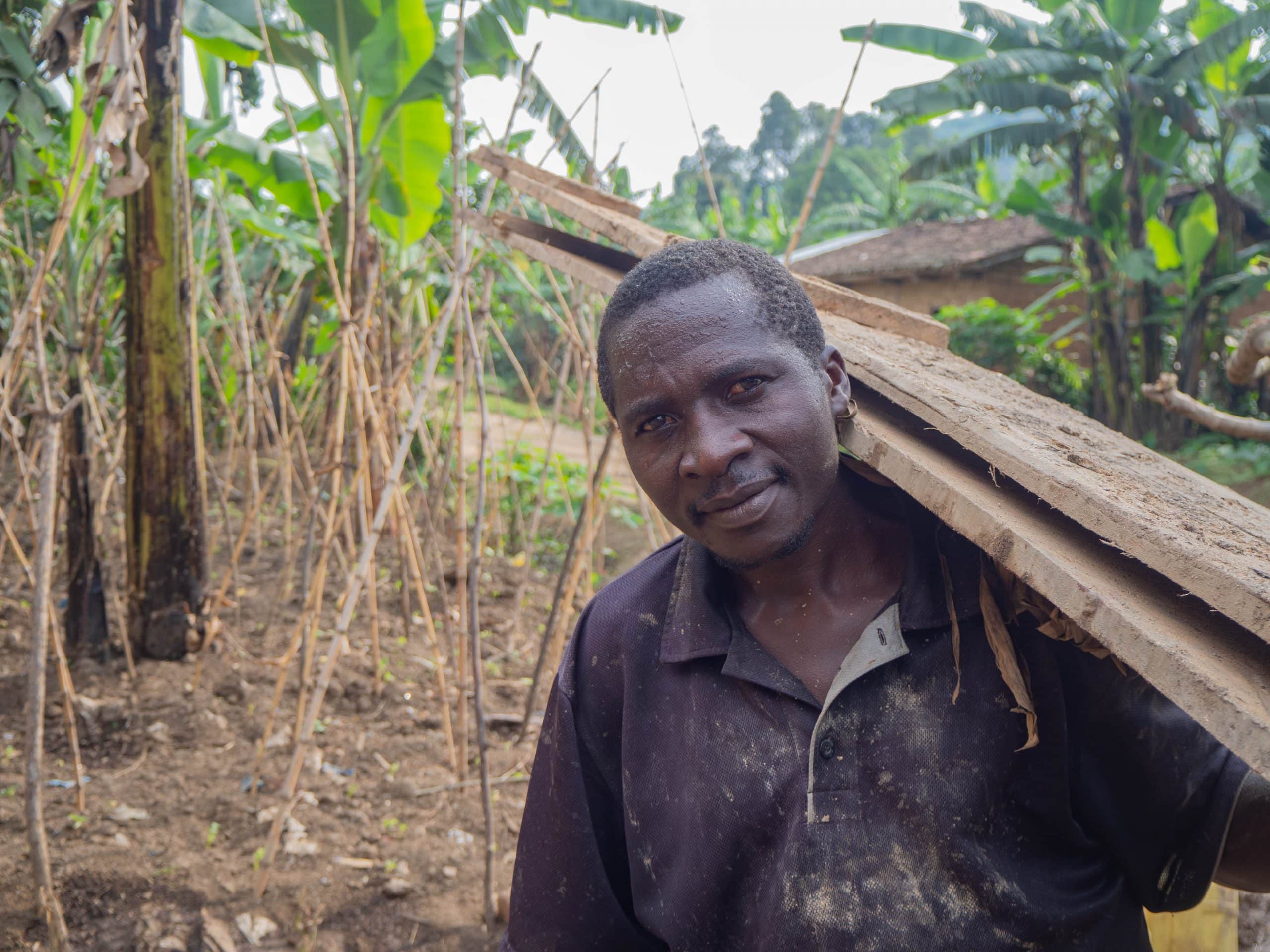 Building JP's House, 2020
"I am an old man (42 years old) and HIV+, making it harder for me to do manual labor all day. I go to sleep sad knowing I can't provide for my family and worry how I will feed my children."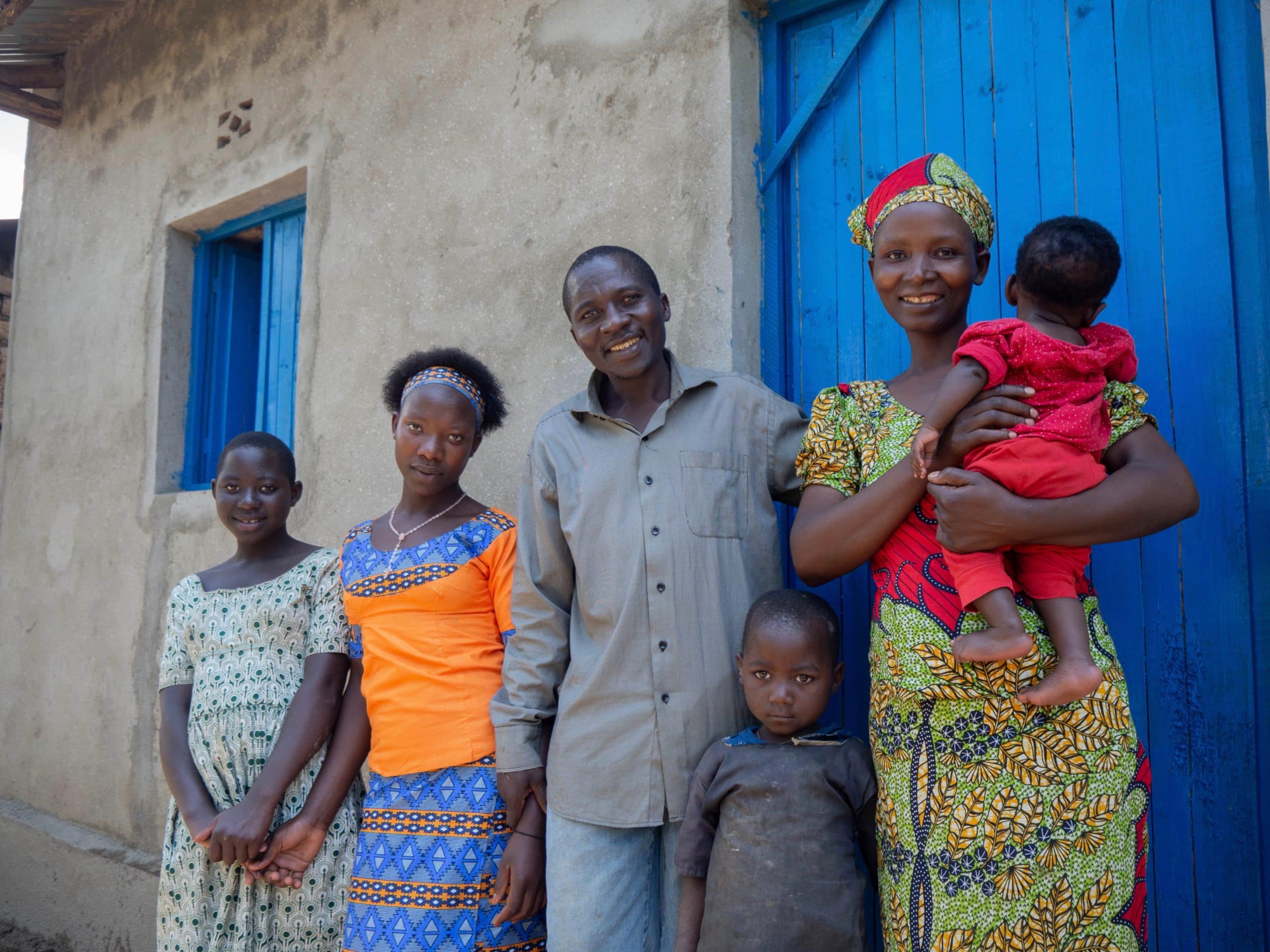 "I can't believe people in America would care about how we live. I feel like my family now has the chance of surviving, and my children will have a better life."
"For the first time in my life, I'm saving money because I don't have to fix an old house. Now money I earn buys food and clothes for my family. I even bought pigs and built this pig pen as an investment".
Selecting Inshuti Families
Selecting Inshuti Families